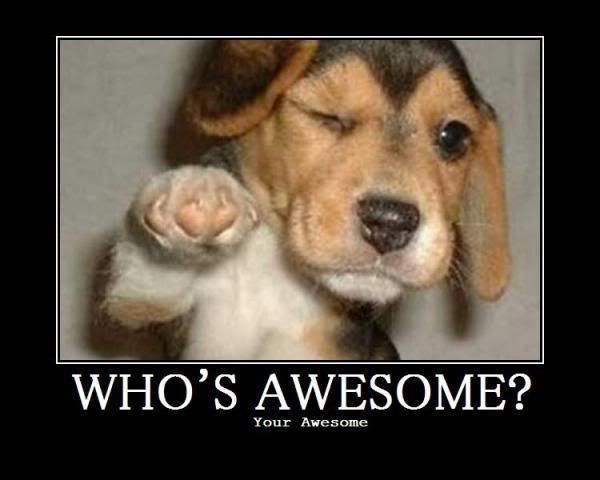 You are doing an amazing job! You are staggeringly awesome! You are so loved by all around you! I'm insanely proud of you! I mean that. Whatever it is that you are working on right now, professionally or personally, I want you to know that I think you are doing a fabulous job.
Why have I chosen to say this? Because there are days, weeks, sometimes whole months that are the epitome of Murphy's Law; everything that can go wrong, does go wrong and then some. For me, if things don't go the way I planned, for example my daughter's sleep schedule once again gets disrupted after I have spent so much time trying to get it straightened out or the project I was working on suddenly hits a roadblock, I get upset. And it's not enough to be upset over the fact that things are going wrong, I have to berate myself for it as well, even if it isn't my own fault. Yes, I am particularly good at holding myself responsible for the world and beating myself up should any part of it not function properly. When everything goes to hell in a hand basket, I think about throwing in the towel.
To be honest, I'm not 100% sure why I don't give up. All I know is that I have this little thing – think of the pilot light, that little blue flame inside a stove – that refuses to go out. I get down, I get upset, I cry, I get angry, I lash out, I hurt, I want someone to understand my frustration, I wish for a hug, I long to be told it will be ok, I let the little editor in my head say awful things to me and then I stop. I get sick of wallowing so I pick myself up and try again and do you know why? Because that thing that killed the cat gets the best of me time and time again, curiosity. I can't help but wonder –in the midst of some horrible mess - what will happen and what everything will look like when it's all said and done, when the clouds roll back and the sun shines again.
When times are tough, you feel like crap, you feel like the loneliest soul, you don't know which way to turn, you've reached your limit, you can't possibly take anymore, let that little light inside of you grow. Let it fill all the space within you and then start asking questions. What will the world look like when all this passes? What new thing will I have learned? What new friend will have gained? And if I lose people, what beautiful gifts will I have inherited from them before they drifted away?
If that's not enough, remember that there is someone (and many others) out here, skating along the perimeter of your life who thinks you are positively incredible. Remember that you change lives for the better - even when you don't feel like your best self - with your art, the words and thoughts you share, or the simple hello you extend to people. Every minute of every day we have a choice. If we fall we can pick ourselves up, dust ourselves off and head on down the road with some new lessons in hand or we can wallow. Can you guess which road will bring you more hope, happiness, excitement and potential fabulousnesses?
You are doing an amazing job! You are staggeringly awesome! You are so loved by all around you! I'm insanely proud of you. Please don't ever, ever stop being YOU!