How you choose to interpret the theme is completely up to you. It simply needs to be tasteful – no pornography or messages of hate here. When you sit down to create, you cannot think about how people will or will not receive your work. You are required to simply enjoy the act of creating.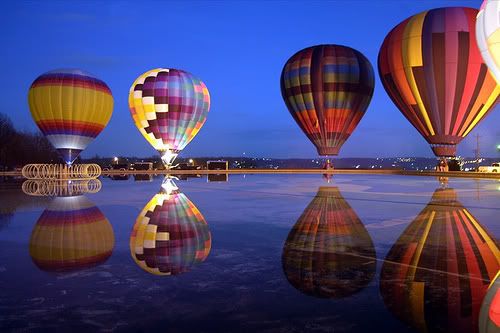 Like a shamanistic language, flight speaks in different idioms. We can blast rockets to the stars. We can race across the sky on fixed wings. Ballooning appeals because it is more languorous and low-tech; it's adventure in an antique mood.
What a treat to stroll through the veils of twilight, to float across the sky like a slowly forming thought. Flying an airplane, one usually travels the shortest distance between two points. Balloonists can dawdle, lollygag, cast their fate to the wind and become part of the ebb and flow of nature, part of the sky itself, held aloft like any bird, leaf or spore. In that silent realm, far from the mischief and toil of society, all one hears is the urgent breathing of the wind and, now and then, an inspiring gasp of hot air.

— Diane Ackerman, 'Traveling Light,' op-ed in The New York Times, 11 January 1997


The winds have welcomed you with softness,
The sun has greeted you with it's warm hands,
You have flown so high and so well,
That God has joined you in laughter,
And set you back gently into
The loving arms of Mother Earth.
— Anon, known as 'The Baloonists Prayer,' believed to have been adapted from an old Irish sailors' prayer
There is an art . . . to flying. The knack lies in learning how to throw yourself at the ground and miss.
— Douglas Adams, 'The Hitchhikers Guide to the Galaxy.'



Important Guidelines


The work submitted must be something you have created and/or worked on between the time the theme was revealed and the Thursday unveiling. Please submit your response to Natasha@creativenachos.com no later than end of day Wednesday, June 24th if you would like it to be posted on Thursday, June 25th. OR send me a link to your response to include in the comments section of the post.





With your response please include:




1. Your name - either first name, shop name or both.


2. The name of your piece (if you choose to give it one)


3. The name of the theme you chose

4. Something you'd like to share (process of creation, idea behind piece) if you'd like to share anything

5. The shop and/or blog links you'd like to include

6. Two photos of your piece or of each of the pieces (3x5 or 4x6 and 72dpi or a max of 96dpi - if you need any help with that please don't worry I'd be happy to help!)



Most importantly, let your imagination fly higher than you've ever imagined!